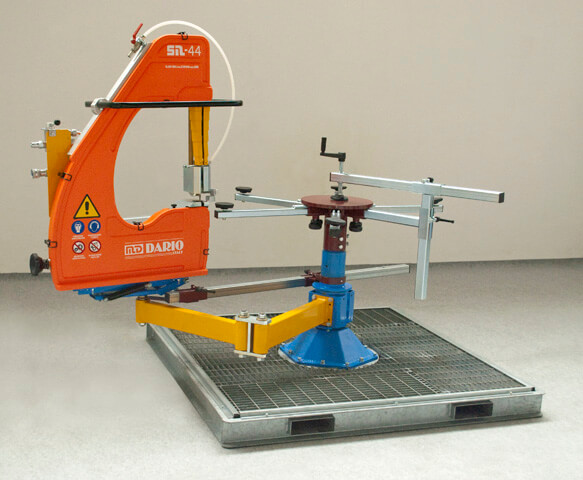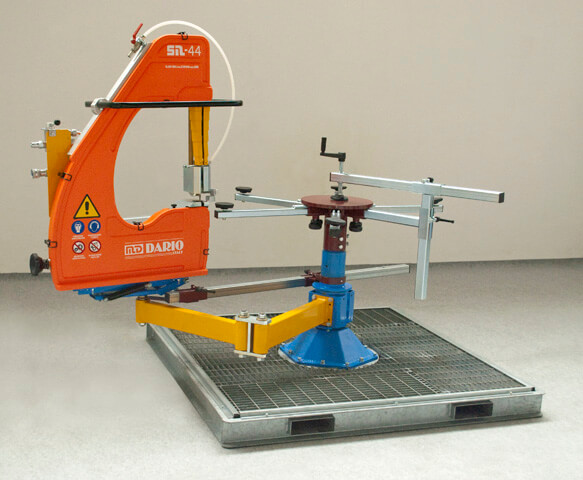 SET 300
To cut up to 25 cm high
Manual and easy to use, SET300 can be fixed on a column to the ground. It is recommended to cut shapes, arcs and circumferences, since the articulated arm, moving around the column, allows to rotate the saw 360°. SET 300 includes:
BANDSAW SN33 OR SN44
COPYING DEVICE
BELLOW PROTECTION SYSTEM
ARTICULATED ARM BS600  READ MORE  
COLUMN
ARC CUTTING DEVICE
HYDRAULIC MOTOR WITH ADJUSTABLE SPEED
TILTING DEVICE SR700M
MATERIAL SUPPORT
PRESSURE LOCK P-250
*The cutting heights are approximate, considering a professional and daily use of the machine. Cutting capacity thickness depends on the material type.
**Cutting speed depends on the type of material, the cutting height and the diamond wire employed.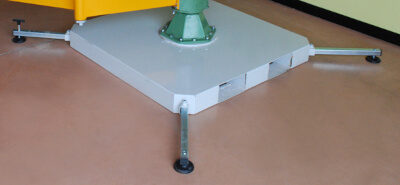 Platform 100x 100 cm – Fixing the column on the forklift platform, it is possible to move the SET300 with a pallet truck, without fastening the machine on the ground.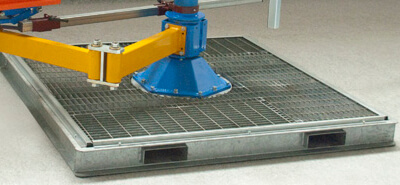 Platform 140 x 140 cm – The platform 140 x 140cm ensures a bigger working area.  The use of grid platform guarantees the water drainage and a higher stability and safety for the operator.
This kind of platform can be moved using a forklift, but not a pallet truck.
Upon request, MD DARIO® can supply also the tank for water drainage model AQ-090, to use in combination with water recycling devices.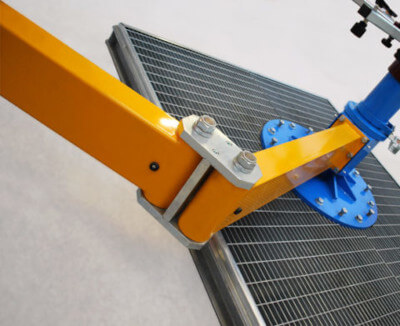 Extended articulated arm –The extended articulated arm BS600EX, reaching an extension of 165 cm allows to cut circular shapes with a maximum radius of 143 cm.
The length of the articulated arm can be customized, according to the dimensions of the piece to work.